Sculptured Eagle Rosewood Plaque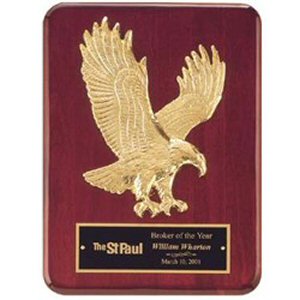 Upload your logo
Rosewood heavy lacquer stained piano finish plaque with a goldtone finish sculptured relief eagle casting. Free laser engraving, before shipping, a proof will be emailed for your approval. Individually boxed.
Size: 9 inch x 12 inch SKU: P3749 Price: $79.00
Volume Discount Pricing
1
2 - 4
5 - 9
10 +
$79.00
$72.00
$65.00
$62.00
Quantity
This item will ship within This item will ship within 5-7 business days..
When timing is important please let us know when you would like your order so we can make sure you get it on time.
Date Needed By:
Enter Engraving Information
If ordering more than one plaque of a particular style each with different engraved text, place your order online and leave the engraving instructions blank on the form. Then send us an email at engraving@wrightplaque.com giving the text that goes with each plaque.