White Ribbon Pinewood Derby Award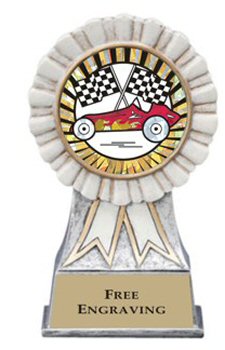 White ribbon the symbol of third place gives this economical resin award a great look. With the ribbon design accented by a combination of pewter and gold making this a real treasure. Up to three lines of free custom engraving.
Mix and Match Ribbon Colors for better pricing.
Size: 5 inch SKU: PDU50055GS Price: $9.49
Volume Discount Pricing
1 - 47
48 - 99
100 - 249
250 +
$9.49
$7.99
$6.99
$5.99
Quantity
This item will ship within This item will ship within 5-7 business days..
When timing is important please let us know when you would like your order so we can make sure you get it on time.
Date Needed By:
Enter Engraving Information Below
3 Lines maximum
25 Characters per line maximum

If ordering more than one award each with different engraved text, place your order online and leave the engraving instructions blank on the form. Then send us an email at engraving@wrightplaque.com giving us the text that goes with each award.
Line 1
Line 2
Line 3